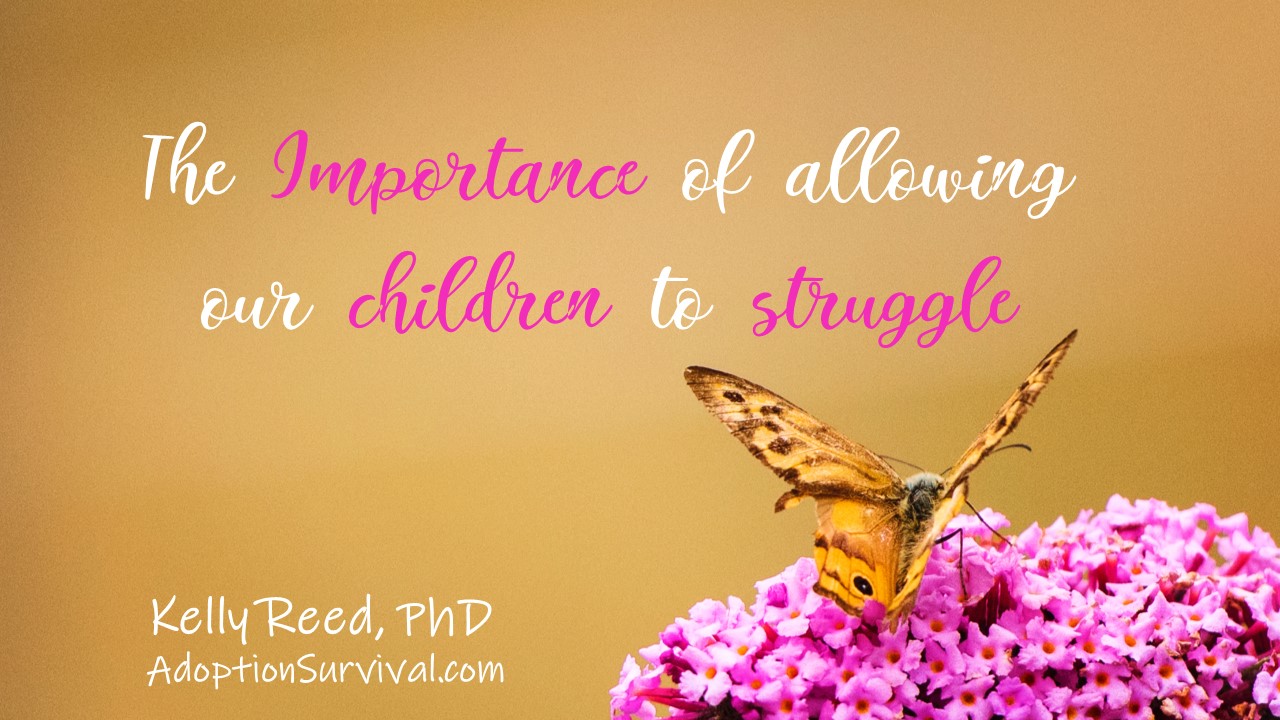 Providing children with love and unconditional acceptance is important to helping them develop a positive view of "self". However, it is equally important to their positive view of self to help them feel competent and capable. Allowing your child to experience what is it like to discover, figure-out, and problem-solve is the first step toward helping your child to feel competent and capable. When you allow your child to struggle with a problem (all while providing encouragement with phrases such as, "You're determined to figure it out" or "You've got a plan for how…" or "You're not giving up") you are showing your child that you have faith in his/her capabilities. Your faith in your child's capabilities also encourages your child to have faith in him/herself.
For most parents, allowing children to struggle is difficult. However, it is necessary for children to truly feel capable. Most parents do too much for their children and as a result their children have learned to depend on their parents to solve their problems, often believing they cannot do it themselves. When you step in to help or rescue your child, you rob your child of the joy of discovery and the opportunity to feel competent. You will never know what your child is capable of, unless you allow him/her to try! It might take a lot of practice in how to return responsibility to your child to do things he/she is capable of figuring out for him/herself. Using phrases like, "That's something you can do" or "You get to decide" can be helpful. Returning responsibility to your child will help your child learn to no longer depend on you to solve most of his/her problems. To help illustrate the importance of struggle and self-discovery, I would like to share with you "The Story of the Butterfly."
A man found the cocoon of a butterfly. One day a small opening appeared. He sat and watched the butterfly for several hours as it struggled to force its body through that little hole. Then it seemed to stop making any progress. It appeared as if it had gotten as far as it could and it could not go any farther.
The man felt sympathetic on seeing the butterfly struggle so much. He decided to help it. He took a pair of scissors and snipped off the remaining bit of cocoon. The butterfly emerged easily.
But it had a swollen body and small, shriveled wings. The man continued to watch the butterfly because he expected that, at any moment, the wings would enlarge and expand to be able to support the body, which would contract in time. Neither happened! In fact, the butterfly spent the rest of its life crawling around with a swollen body and shriveled wings.
It was never able to fly.
What the man in his kindness and haste did not understand was that the restricting cocoon and the struggle required for the butterfly to get through the tiny opening were nature's way of forcing fluid from the body of the butterfly into its wings so that it would be ready for flight once it became free from the cocoon. (Author Unknown).
Sometimes struggles are exactly what we need in our lives in order to fly (i.e., to grow and reach a higher potential). Learning to respond to your child in ways that gives your child credit for his/her ideas, efforts, and accomplishments, without praising him/her (e.g., You figured it out! You did it! rather than "You're so good."), will help your child develop a positive view of self as capable and competent. Our book, Wisdom from Adoptive Families: Joys and Challenges in Older Child Adoption, has a section on praise and encouragement, and Kelly discusses more on the topic here.