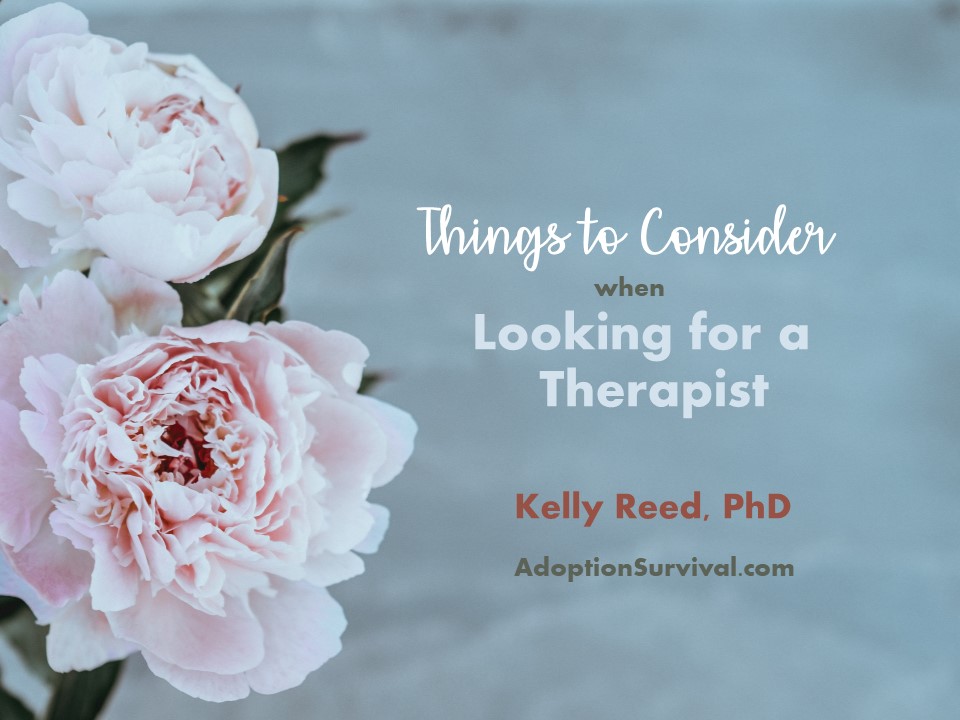 Finding a therapist with adoption experience – specifically older child adoption experience – who is trauma- or attachment-focused can seem nearly impossible. We have some recommendations for finding a therapist or counselor who uses a developmentally appropriate approach.
Seek Recommendations
Look for recommendations of therapists or counselors who work with children and families. Check with other adoptive families, professionals (such as pediatrician, family lawyer, social worker, pediatric occupational therapist, audiologist, school counselor), family and friends, your employer, or your insurance company.
Search Online
There are online services like GoodTherapy.org, PsychologyToday.com, and others that can be helpful in locating therapists in your area; however, keep in mind that listed therapists pay a fee for membership to be included on these lists. There are some great therapists listed, but there will be some great ones not listed, and others may be listed but not so great.
There are many professional organizations, institutes, and networks that contain directories of therapists and other support that may assist in your search (such as Attachment & Trauma Network, Inc; Association for Training on Trauma and Attachments in Children (ATTACh); The Theraplay® Institute; The National Child Traumatic Stress Network (NCTSN); TF-CBT National Therapist Certification Program).
Travel Distance
Good and convenient often do not go hand-in-hand. You can probably find a therapist 10 minutes from your house, but you might find a better one who is worth a longer dive. A longer drive home can provide time to process feelings and thoughts from the therapy session.
One or More Therapists?
There are no easy answers to the question of should we have one therapist or multiple therapists. Discussing the pros and cons with the therapist will be helpful in avoiding potential pitfalls in your therapeutic work.
Therapist's Gender
You will want to choose the gender you or your child prefer to work with. However, your reasons may be something you need to discuss with the counselor.
Things to Ask Therapists
Are you a licensed counselor or therapist?
Are you a registered therapist, or do you have any additional certifications?
What is your training or educational background?
What percentage of clients are adolescents (if you are seeking counseling for your teen)? …families? …foster, adoption, or attachment related issues? …trauma related?
How much of your work involves the use of art, play, or team building exercises with adolescents and with families?
What do you believe is required for healing?
Do you work with other professionals in your clients' lives, such as medical doctors, psychiatrists, schools, or other interventionists?
Are you willing to work with both our family and our child individually, or do you suggest we have different therapists?
If you will be seeing our child individually, how involved or informed will we be?
Do you make referrals if you identify my child or family needs additional or different services?
Do you provide psychoeducational assessments* or do you have someone you recommend who does?  
*A variety of psychoeducational assessments are available to assess individual aptitudes, attitudes, abilities, achievements, interests, personal characteristics, disabilities, and mental, emotional and behavioral disorders.
Ask About Their Fees
If you cannot afford them, tell them what you can afford because this could be a long-term process. Some may be willing to reduce their fees.
Many community clinics can provide counseling on a sliding scale fee.
Some universities have clinics where students-in-training provide counseling at a lower cost. However, they are students, and therefore they will not have the training and experience of a fully-trained therapist.
Listen to Your Intuition
Is the person you are talking to trying to sell themselves or are they really telling you about how they work?
Who makes you feel the most relaxed and encouraged?
It is our belief that it is essential for therapists or counselors to network with caregivers, school personnel, and sometimes other professionals to obtain a complete and accurate picture of the child and his or her needs. We also like the use of assessments that are up-to-date, valid, and reliable. If you struggle to find a therapist or counselor who fits our suggested criteria, you may find one who is willing to research and learn. Remember, counseling is an investment that often brings great returns.