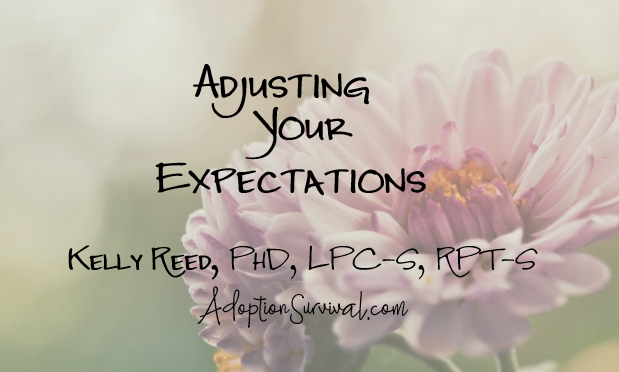 The beginning of a new year provides us the opportunity to reflect and look at our own expectations.
Unrealistic expectations put too much unnecessary pressure on you, your adopted child, your existing children, your spouse, and others. Unrealistic expectations can harm your relationships and leave you working toward false goals. They can, will, and most often do lead to disappointment. If you want your relationships to be successful, work on being aware of what is going on with you, with others, and within your relationships and set realistic expectations.
Do not expect others to be able to read your mind and always act according to your wishes. You do not share one mind, and they are different from you. Good communication is vital to a healthy family. Your family (existing children, spouse, and others) will likely need to adjust their expectations as well. Most families we spoke to found that their existing children had difficulty adjusting to their adopted sibling's behaviors and the attention their adopted older sibling received. Make sure you check in with your family members to learn how they are doing. Have frequent, purposeful discussions with them acknowledging the successes and difficulties they are experiencing. Give them opportunities to express frustration that their expectations are not being met. Provide them with potential reasons why things are going the way they are. Have family members try to look at things from other family members' perspectives.
Equally important, your expectations cannot change people. One of the biggest challenges people face in life is learning to accept people as they are. You can accept people while not accepting their behavior. People who do not feel accepted feel rejected, which is a form of identity destruction and can lead to many negative outcomes. Your older adopted child will be required to do a lot of work to adjust and change. You cannot change people, but you can help facilitate their process toward positive, healthy change. Life does not always work the way we imagined or planned and working hard to adjust accordingly to where everyone is at and what they are capable of may be beneficial. Adjustments can be long-term or moment-to-moment as needed.
Though we tend to set our expectations unconsciously, it does not prevent us from consciously adjusting them up or down. If you observe yourself repeatedly disappointed by experiences you feel you should be able to enjoy, you may benefit from consciously lowering your expectations somewhat. Similarly, if your expectations are continually low, your pessimism may prevent you (and possibly others) from enjoying the anticipation of good things, and you may want to work on allowing yourself to expect a little more. Going into situations with an open mind, not expecting certain things, allows you to fully engage without the pressure of living up to preconceived notions.
Consider taking a few moments to reflect on your expectations for yourself and for others.