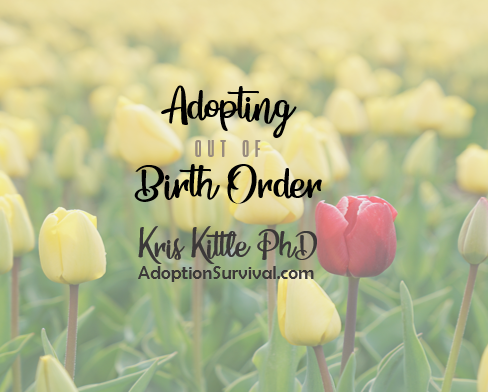 No matter how you grow your family, your family experiences many changes. Of course, it changes in number, but the atmosphere also changes. The dynamics are different. Everyone is finding their place in the new normal. When you add a child younger than any existing children, every family member adjusts to cater to the youngest member of the family. And the family finds their new rhythm.
However, when the new child who joins the family changes the birth order, finding the rhythm is often more difficult. Not only does your new child have to figure out their place in their new family, but the existing children whose placement in the family changed also have to find their place.
For some children, a birth order displacement is minor. They may have a more flexible personality and can easily go with the flow of life. They will still have to learn how to respond or act to their newest sibling. They may need to figure out how to respond to a child who is chronologically older but acts younger than them. The parents may also need to figure out how to navigate that as well.
For other children, a change in birth order causes them to feel "demoted" in family "rank" which can incredibly difficult for some to accept. These children tend to be more competitive or often are identified as "natural leaders." They may feel resentment toward the new child. They also may be confused on how to respond to a child chronologically older who acts younger than them. It can be especially difficult if the new child is now the oldest but is unable to fulfill the required responsibilities.
Before you decide to adopt out of birth order, consider these questions:
How will your existing child respond to a child who is chronologically older, but acts younger than they do?
How will your existing child handle the change of their place in the family?
How does your child handle change?
Will they struggle no longer being the oldest boy or oldest girl?
Perhaps ask others who know your child well for their thoughts as well.
Adopting out of birth order can work, but it does not always work. The unknown variable is how your new child is going to respond to their place in the family. Some adjust well while others want to be in charge of every family member. Some struggle to simply fit. Most will feel sad about family experiences they missed before joining the family. Often, this sadness is expressed as jealousy toward existing children. Then parents need to determine the best way to address that jealousy.